Members of Afghanistan's Women's Movement for Justice staged a protest on Tuesday in front of the United Nations Assistance Mission (UNAMA) compound in Kabul, and called on the organization to take action against the Taliban for its repressive policies against women and girls.
The protesters said that the Taliban are violating women's rights in Afghanistan and that the international community must put more pressure on the group to lift restrictions on women and girls.
In a letter to the UN, a number of female protesters urged the organization to impose stricter sanctions on the Taliban leaders. In addition, the protesters called on the UN to close the Taliban's political office in Qatar as well as to stop sending its weekly shipments of $40 million cash aid to Afghanistan.
It has been over 530 days since the Taliban ushered in a ban on girls attending school above grade six and three months since the group banned women from getting a university education and from working for non-government organizations.
The Special Rapporteur of the United Nations Human Rights Council Richard Bennett, meanwhile, said in his latest report, delivered on Monday, that the Taliban's treatment towards Afghan women is "horrible" and an example of "gender apartheid."
The Taliban's retractions have forced many Afghan women to stay at home – including Royina Raisi, who used to work for the government. Now she spends her time reading books in a bid to escape her heartache over not having any freedom.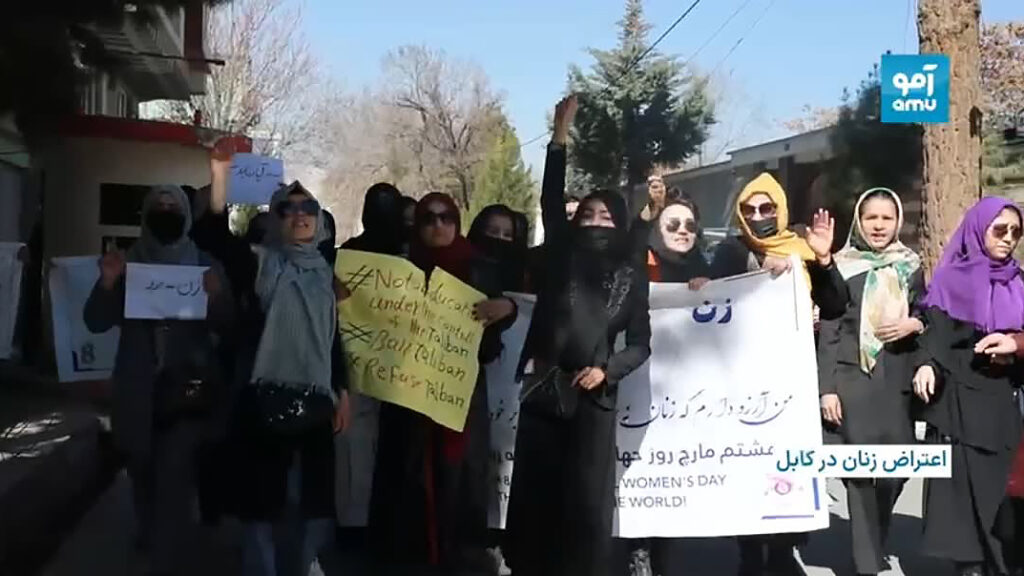 These days she is busy reading novels by British author Lisa Jewell, who she says offers her hope for the future.
But as International Women's Day, March 8, approaches, Raisi said: "This day (March 8) is celebrated all over the world, while it has been two years that Afghan women neither have freedom nor permission to speak. But today the women of Afghanistan have forgotten this day and [here] no one remembers this day."
"If one day schools and universities are reopened for women and girls, maybe I will be the first person to start lessons and continue my education. I believe this dark day will end (one day)," she added.
I would like to see the results of my hard work
Laila Kazemi, who was a student at a private university in Baghlan province, said that she has been working to promote women's rights for seven years.
She now runs a sewing business and said she hopes to export her garments.
"Every farmer that cultivates, he waits for the yield. I studied through difficulties, but I expected to finish one day, but it was pointless," Kazemi said.
This comes as people around the world prepare to celebrate Women's Day on Wednesday. But in Afghanistan, the Taliban have silenced the voices of Afghan women and forced them to stay at home.