Afghans have been struggling with an increasing pace of unemployment in the country as thousands lost their jobs following the fall of the previous government and a significant reduction in the international community's support for Afghanistan.
The streets of Mazar-e-Sharif in northern Afghanistan are an example of many other cities in the country that are filled with daily wagers who say they wait from dawn to dusk with the hope to earn an income for their families.
The same is the issue for many university graduates who say they have been struggling for years to find a job, but they have failed.
Omid, a resident of Balkh, said he graduated from university four years back, but he hasn't been able to find a job so far despite so many attempts.
"I am tired of unemployment," Omid said, adding that the Taliban government should provide job opportunities for the young generation, especially.
Yusuf, another Balkh resident, said he is a law graduate but he is seeking a job for the last two years.
"I applied for jobs in dozens of institutions, both governmental and private, but I couldn't find one. I have decided many times to leave the country due to this issue," he said.
A UN report from January 31 says that nearly 500,000 jobs were lost a few months after the Taliban takeover of Afghanistan and that the number might increase to 900,000.
Maryam, an alias for an Afghan woman, said she worked at a journalists' rights supporter organization in Balkh and used to get $600 a month, but she lost her job after the fall of the previous government.
Maryam said she has the responsibility of a 10-member family, including her parents, who have illnesses and need treatment.
"I am unemployed for the last 11 months and I have sold out much equipment at home to afford the treatment of my parents," she said.
Taliban vows to overcome poverty
Taliban officials in the ministry of labor said "major plans" are on hand to overcome poverty and unemployment in the country, but they stressed the need for the international community's support to Afghanistan.
"The international community should implement long-term programs for overcoming poverty and creating jobs instead of short-term aid plans," the Taliban's deputy minister for labor ministry, Abdul Salam Sadat, said.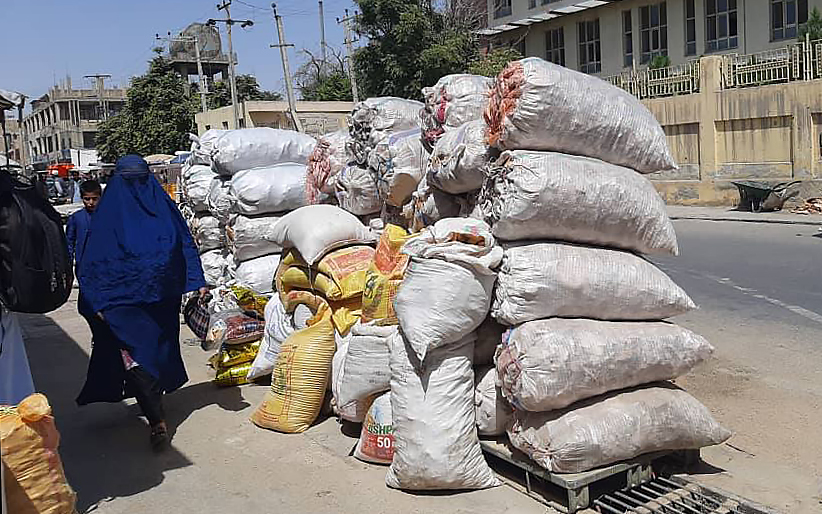 Increase in use of wasted bread in Balkh
As poverty increased, sellers of wasted bread in the city of Mazar-e-Sharif said the number of their customers who buy wasted bread for eating has increased recently, and this has led to an increase in the prices.
Previously, 7 kilograms of wasted bread was sold for 70 Afs ($0.7) while it has increased from 200 Afs ($2.2) to 250 Afs ($2.8) nowadays, according to shopkeepers.
"Wasted bread was used for cattle, previously, but now people are using it for themselves because they have no option but this," said Islamuddin, a shopkeeper.
Yasamin, an alias for a resident of Balkh, said she is the caretaker of a 7-member family and that she has started buying wasted bread due to its low price in compared with normal bread.
"As poverty has grown in Afghanistan, I save my family from hunger by feeding them with wasted bread. My husband has died and I have to spend 13 Afs (15 cents) a day to buy wasted bread and feed my children," the woman said.
"Given the income that I have, I can only buy wasted bread to save my children from hunger," said Tajuddin, another resident of Balkh, who is a daily wager.
Taliban deputy governor for Balkh, Noorul Hadi Idris, admitted the economic problems faced by the people and asked the international community to recognize their government and help Afghans to alleviate poverty.
Analysts said to overcome the challenge, there is a need for an immediate increase in investment by companies and investors in the country.
"We can also attract foreign investors' attention to investing in Afghanistan to remove poverty and create jobs for the people," said Jamshid Majidy, an Afghan analyst.
According to a report by the UN's food agency, WFP, in May, over half of the country's population lives below the poverty line, and food insecurity is on the rise.
The report says that 22.8 million people face acute food insecurity in Afghanistan, while 8.7 million people face emergency levels of food insecurity.