The Taliban imposed a new restriction on Afghan women, this time ordering female doctors and health workers to cover their faces with masks and to observe the "Islamic hijab" at all times during work.
Mohammad Qasim Haqqani, head of the vice and virtue department for the Taliban-run ministry of public health, sent out a letter on Tuesday directing all female physicians and health workers in hospitals and clinics to cover their faces and wear full hijab.
The Taliban said in the letter that women do not observe hijab continuously and that according to their investigations, female doctors and health workers do not observe hijab 100 percent of the time "therefore the department of vice and virtue of the ministry of health directs all female health workers in directorates, and administrations to completely observe their hijabs."
The Taliban also attached pictures of women – covered up from head to toe, with only their eyes visible – as an example of full Islamic hijab.
The letter was sent to 19 Taliban-run hospitals.
The department of vice and virtue also warned women workers that failure to comply with their orders could result in legal action.
The Taliban had previously ordered female students and employees of a number of institutions to observe the Islamic hijab. The Taliban also banned women from entering universities with colorful dresses, and instead, ordered female teachers and students to wear black hijab.
The Taliban has imposed dramatic restrictions on women and girls throughout Afghanistan since their takeover in August 2021 and have not only banned girls and women from high school and universities but also barred them from working for non-government organizations (NGOs) that provide humanitarian assistance to millions of people in Afghanistan.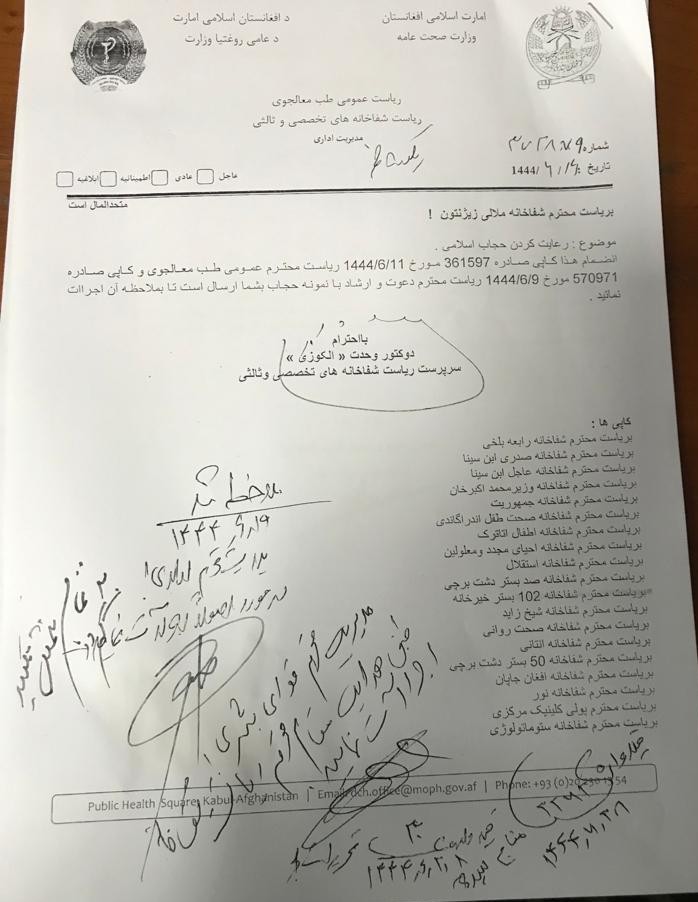 Moreover, women are barred from visiting parks, playing sports, and traveling without a male guardian.
The Taliban's strict restrictions on Afghan girls and women have drawn strong criticism from the international community, and even a number of aid organizations stopped their activities in the country as a result of the ban on women working for NGOs.
Currently, three international aid organizations – including the CARE, International Rescue Committee, and Save the Children – have resumed parts of their operations in Afghanistan.
After banning women from working in aid organizations, the highest officials of the United Nations visited Afghanistan twice to persuade the Taliban to lift their restrictions. The trips, however, were fruitless, and the Taliban failed to reverse restrictions on Afghan women and girls.