Pakistan's Foreign Minister Jalil Abbas Jilani met with his Taliban counterpart Amir Khan Muttaqi on Thursday in Tibet amid escalating tension between the two countries over Islamabad's plan to expel 1.7 million refugees from Afghanistan by the end of this month.
Jilani and Muttaqi met in Tibet's Xizang city on the sidelines of the third Trans-Himalaya Forum for International Cooperation in China's autonomous region.
Pakistan's Foreign Ministry said on X, formerly Twitter, that Jilani reaffirmed Islamabad's "commitment to further strengthening bilateral ties with Afghanistan."
In the meeting, he underscored that the "challenges confronting regional peace and stability be addressed in collaborative spirit through collective strategies."
Their meeting came just two days after Islamabad announced its decision to arrest and deport all illegal immigrants, including refugees from Afghanistan, from November 1.
Pakistan has taken the decision on the back of a sharp increase in terror attacks in the country, many of which Islamabad claims have involved Afghanistan nationals.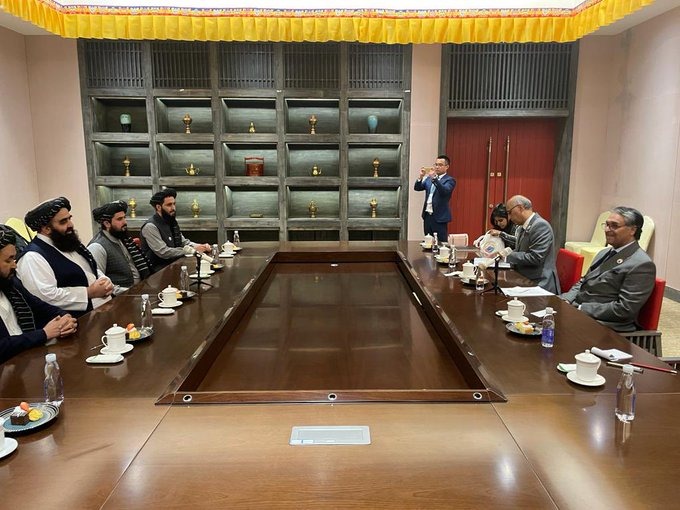 "We have given them a November 1 deadline," said interim Interior Minister Sarfraz Bugti on Tuesday, adding that all illegal immigrants should leave voluntarily or face forcible expulsion after that date.
The interior minister revealed that 14 of 24 suicide bombings in the country this year were carried out by Afghanistan nationals.
Bugti said some 1.73 million refugees from Afghanistan had no legal documents to stay, adding a total of 4.4 million Afghanistan nationals lived in Pakistan.
Taliban authorities have responded by saying Pakistan's decision is "unacceptable".
Islamabad meanwhile accuses Afghanistan's Taliban government of "mentoring" Tehreek-e-Taliban Pakistan (TTP) militants, who have claimed responsibility for several of the recent deadly attacks in Pakistan.
The Taliban denies the accusations and has repeatedly said it will not allow any group to threaten another country from Afghanistan's soil.