The world is becoming unhinged, and is inching closer to a "great fracture", Antonio Guterres, the Secretary-General of the United Nations warned at the opening of the annual General Assembly on Tuesday.
Addressing presidents and prime ministers, monarchs and ministers at the high-level meeting, he warned that geopolitical tensions are rising and that the world seems "incapable of coming together to respond."
Guterres listed numerous "existential threats" the world is facing, from climate change to disruptive technologies like artificial intelligence.
He said the UN Security Council needs to be reformed while the international financial architecture needs to be redesigned so that it becomes truly universal and serves as a global safety net for developing countries in trouble. "It's reform or rupture," he said. The world needs statesmanship, not gamesmanship and gridlock, he added.
"It is time for a global compromise," Guterres said, adding: "Politics is compromise. Diplomacy is compromise. Effective leadership is compromise." What is needed, he said, is determination to end the scourge of war and uphold respect for international law.
All this is taking place. Guterres said, as the world is making a "chaotic transition" and rapidly moving from a brief period of "unipolarity" – domination by a single power, the United States – toward a multipolar world with many power centers. That is, he said, positive in many ways.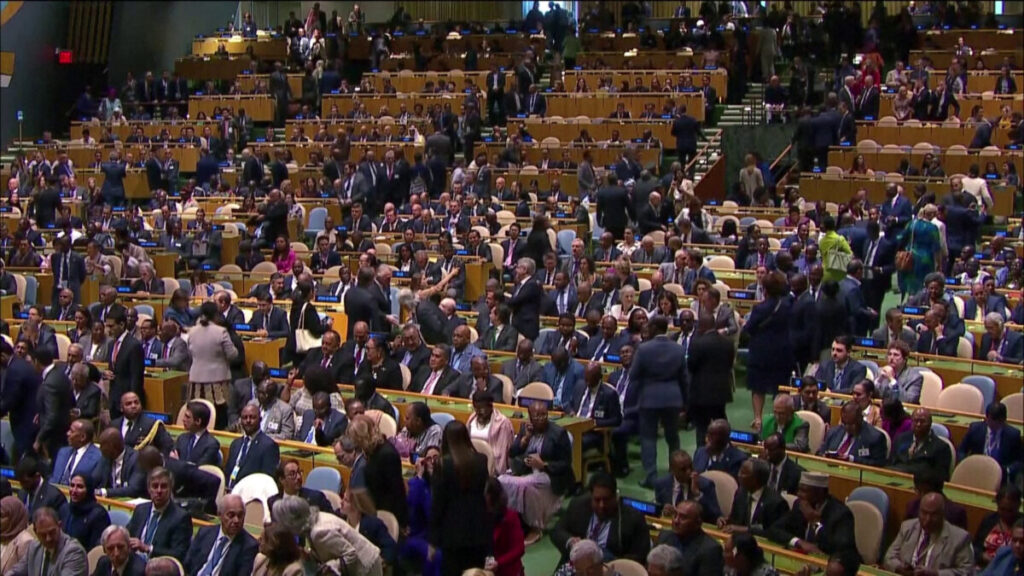 Guterres warned that divides are deepening, among economic and military powers, between countries in the developed North and developing South, and between the global West and East.
He told heads of state that Russia's invasion of Ukraine is in violation of the Charter of the United Nations and international law and that it has unleashed a nexus of horror with lives destroyed, human rights abused, families torn apart and children traumatized.
Guterres also raised the issue of nuclear threats, saying this "put us all at risk." He noted that "around the globe, old tensions fester while new risks emerge." On this note he mentioned Sudan, that's descending into a full scale war, the Democratic Republic of Congo crisis, Haiti that's overrun by gangs and Afghanistan. He said a staggering 70 percent of the population in Afghanistan needs humanitarian assistance with the rights of women and girls systematically denied.
In the ensuing debate, 35 Heads of State and Government spotlighted the multitude of challenges and crises affecting their respective nations and regions and numerous leaders voiced shared concerns, echoing the Secretary-General's warning over escalating divisions undermining diplomacy and international cooperation.
Turkey's President Recep Tayyip Erdogan touched on Afghanistan and voiced support for Afghanistan's people who are in dire need of humanitarian support.
The Amir of Qatar, Sheikh Tamim bin Hamad al Thani inturn stressed the need to prevent Afghanistan from sliding into a difficult-to-manage humanitarian crisis that becomes a haven for terrorist individuals. Uzbekistan's President Shavkat Mirziyoyev also touched on the issue of security and said developments in Afghanistan directly impact international security.
"Leaving Afghanistan again alone with its own problems would be a grave mistake. Ignoring, isolating and imposing sanctions only exacerbates the hardships faced by the ordinary Afghan people," he warned, adding that humanitarian aid to the Afghan people should not be reduced.
He also called for the development of mechanisms to utilize Afghanistan's frozen international assets to address its acute social problems. "We need an open, peaceful and sustainable Afghanistan that is actively engaged in regional cooperation initiatives and is ready for mutually beneficial partnerships with its neighbors and other countries. I believe it is essential that under the leadership of the United Nations, we jointly develop a flexible and constructive approach to the Afghan issue," he concluded.
Seyyed Ebrahim Raisi, President of Iran, meanwhile said the situation in Afghanistan is another example of foreign meddling in the region, and called on the international community to provide the assistance necessary to address the crisis of refugees driven from that country — many of whom have been given refuge in Iran.
Sadyr Zhaparov, the president of Kyrgyzstan, underlined the need for the international community to recognize that the people of Afghanistan are experiencing significant difficulties, amplified by the lack of a coordinated global stance on the situation in the country.
This year's week-long high-level UN gathering, the first full-on meeting of world leaders since the COVID-19 pandemic disrupted travel, has 145 leaders scheduled to speak. It's a large number that reflects the multitude of crises and conflicts.
But for the first time in years, US President Joe Biden, who spoke soon after Guterres, is the only leader from the five powerful veto-wielding nations on the UN Security Council to address the 193-member assembly.
China's Xi Jinping, Russia's Vladimir Putin, France's Emmanuel Macron and Britain's Rishi Sunak are all skipping the UN this year.