Rescuers in Pakistan pulled five of seven children to safety after they became stranded with their teacher in a cable car high over a ravine, but a helicopter rescue operation was called off as night fell, media and a security source said.
Flood lights were installed and a ground-based rescue operation was continuing more than 12 hours after their cable car snagged, leaving it hanging at an angle, a security source said.
The source added that cable crossing experts had been sent by the military to the remote area north of Islamabad and were trying to rescue the children one by one by transferring them onto a small platform along the cable.
"Three more children have been rescued in Pakistan army's rescue operation," the military said after the helicopter had been withdrawn. "Five children have been rescued so far. Operation is continuing."
A video shared by a rescue agency official showed more than a dozen rescuers and locals lined up near the edge of the dark ravine, pulling on a cable until a boy attached to it by a harness reached the hillside safely to cries of "God is great".
Residents said community members from surrounding areas who had experience rescuing people this way had also arrived.
"It is a slow and risky operation. One person needs to tie himself with a rope and he will go in a small chairlift and rescue them one by one," said Abdul Nasir Khan, a resident.
One of the cable lines carrying the car snapped at around 7 a.m. (0200 GMT) as the students were traveling to school in a remote mountainous area in Battagram, about 200 km (125 miles) north of Islamabad, officials said.
Two children were rescued by helicopter, one by one, district official Shah Fahad and the military's media said. Television footage showed one child being lifted off the cable car by a helicopter in a harness, swinging side to side before being carried to the ground.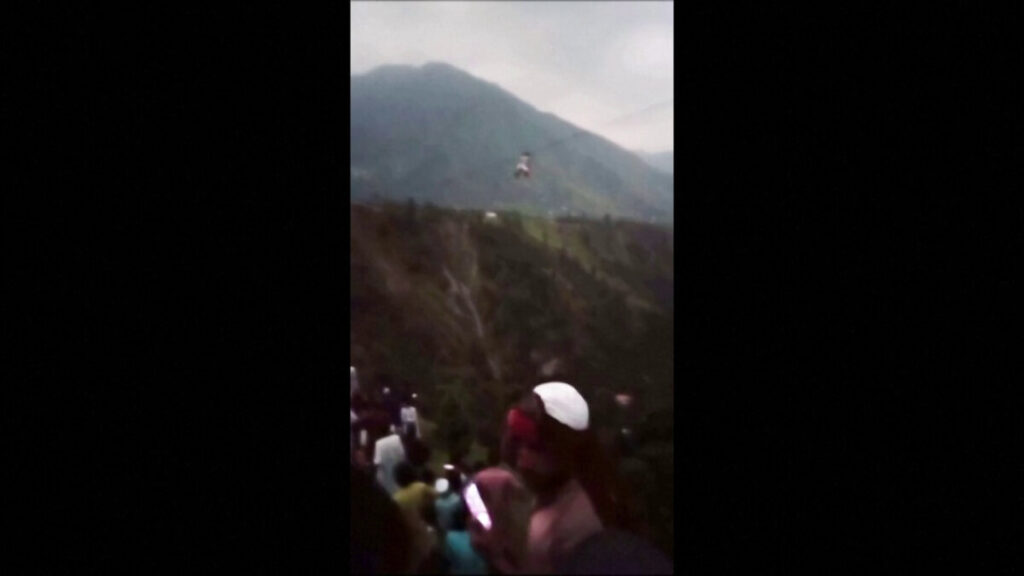 The cable car became stranded half way across the ravine, about 275 meters (900 feet) above ground, Shariq Riaz Khattak, a rescue official at the site, told Reuters.
The helicopter rescue mission had been complicated by gusty winds in the area and the fact that the helicopters' rotor blades risked further destabilizing the lift, he said.
"Our situation is precarious, for god's sake do something," Gulfaraz, a 20-year-old on the cable car, told local television channel Geo News over the phone. He said the children were aged between 10 and 15 and one had fainted due to heat and fear.
The rescue effort has transfixed the country, with Pakistanis crowded around television sets, as local media showed footage of an emergency worker dangling from a helicopter cable close to the small cabin, with those onboard cramped together.
Crowds of villagers gathered on the hillside anxiously watching the operation.
Pakistan's caretaker Prime Minister Anwar ul Haq Kakar said he was tracking progress of the rescue.
"Thanks to the efforts of our army personnel, students stuck in the chairlift have started returning to the ground safely," Kakar said in a post on messaging platform X, formerly known as Twitter.
Source: Reuters