The foreign ministers of Russia, China, Iran and Pakistan have called on the Taliban to form an inclusive government and to lift all restrictive measures against women and ethnic minorities.
"The ministers called on the Afghan authorities to form an inclusive government involving all ethnic groups and political institutions and lift all restrictive measures against women and national minorities," a joint statement adopted at an informal meeting in Samarkand read.
The statement came after a meeting on the sidelines of the Samarkand meeting on Afghanistan that is being held in Uzbekistan Thursday and attended by foreign ministers for Afghanistan's seven neighboring countries.
The quadrilateral meeting between the foreign ministers of Iran, China, Russia and Pakistan was held on Wednesday, Iran's foreign ministry said in a statement on Thursday.
Addressing the meeting, Iranian Minister of Foreign Affairs Hossein Amirabdollahian considered the model of joint regional cooperation between the four countries as important and said Afghanistan's neighbors are more concerned about the future of Afghanistan than any other stakeholder.
He reiterated Iran's concerns over terrorism and extremism and the wrong policies of the United States in line with the further development of terrorism and insecurity in Afghanistan.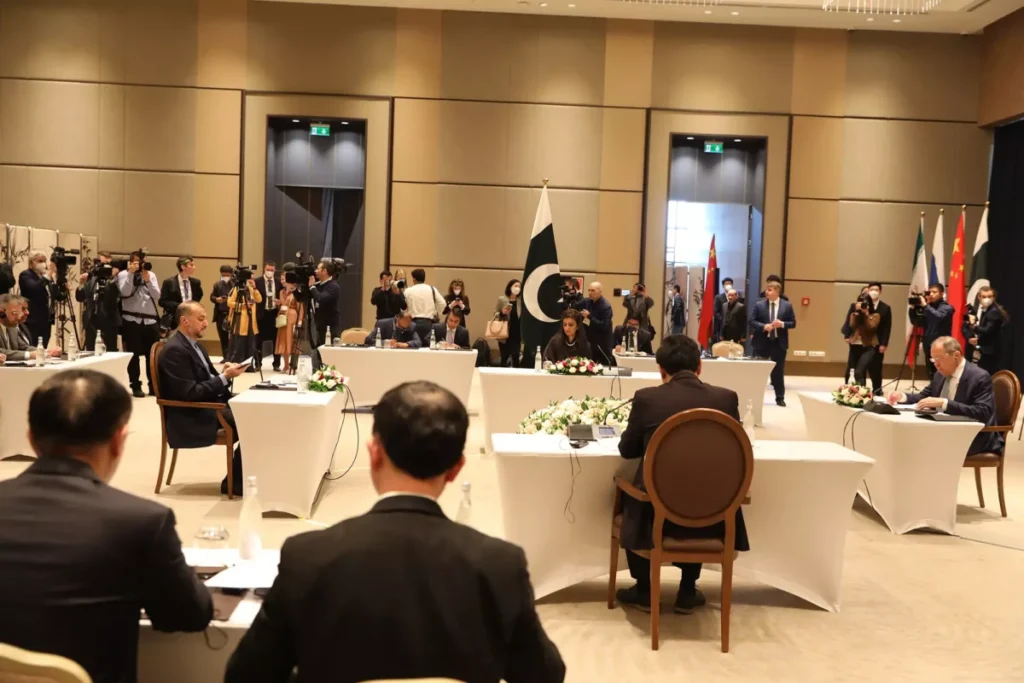 "Afghanistan is today in need of regional cooperation instead of the intervention of the West, America and the actors that have led this important country of the region to poverty and instability," he said.
"The US and its allies have a responsibility both as occupiers in their performance over the past two decades and as members of the United Nations to be answerable over the situation gripping Afghanistan," he added.
He also emphasized the importance of managing the economic situation in Afghanistan and considered the economic pressures on Afghanistan to be one of the effects of the increase in refugees and stressed the need to bring an end to provocations on Afghanistan's borders with its neighbors.
The statement did not note comments by the other three foreign ministers.
The Taliban's foreign minister Amir Khan Muttaqi meanwhile flew out of Kabul early Thursday for Samarkand and is expected to attend the meeting. He will also reportedly meet with regional foreign ministers on the sideline of the conference.
In a tweet on Thursday, the Taliban's ministry of foreign affairs confirmed Muttaqi's participation at the meeting which will focus on the humanitarian crisis in the country and on security threats to the region that emanate from Afghanistan.
On Friday, the Russian foreign ministry confirmed that Russian Foreign Minister Sergey Lavrov will also attend the Samarkand meeting.