A United Nations delegation led by UN deputy chief Amina Mohammed met Taliban officials in Kandahar province on Thursday.
The delegation met with Taliban deputy governor and other officials of the local administration where the UN deputy chief reiterated that the main purpose of their visit to Afghanistan was to provide comprehensive information to the international community about the current situation in Afghanistan.
She said that the United Nations will continue its efforts to prevent a humanitarian crisis in Afghanistan, a Taliban official from the Kandahar governor's office said.
According to a statement by the Taliban governor's office in Kandahar, Mohammed said they supported at least 23 million Afghans in 2022 who were faced with food shortages.
The statement said that during the meeting, the Taliban's deputy governor for Kandahar asked the UN delegation to hand over the seat of Afghanistan in the United Nations to the Taliban, remove the names of the Taliban from the blacklist based on the Doha agreement, and help to improve the relations of the Taliban administration with the world.
The Taliban deputy governor of Kandahar also said in the meeting that "there is now a single leadership in Afghanistan, drug cultivation has been reduced to zero, there are no civilian casualties, moral and administrative corruption have been eliminated."
Mubarak added that the world should be assured that Afghanistan will not be used against any other country.
But one participant of the meeting, said on the condition of anonymity that Amina Mohammed, in the meeting with the deputy governor of Kandahar and some people close to the Taliban leader Mullah Haibatullah Akhundzada, asked them to remove the bans on women's work and education and change women's isolation in Afghanistan's society.
The United Nations delegation visited Kandahar at a time when the Taliban has imposed many restrictions on women, banning them from attending universities and working in NGOs.
According to a statement issued by UNAMA, Mohammed was Mohammed; the Executive Director of UN-Women, Sima Bahous; and the Assistant Secretary-General of the Department of Political and Peacebuilding Affairs and Peace Operations, Khaled Khiari, arrived in Kabul on Tuesday as part of their wider mission in the region.
In their meetings, the delegation "stressed the need to uphold human rights, especially for women and girls". The statement noted they were encouraged by exemptions being introduced that have allowed the resumption of some humanitarian activities that had been hampered following the ban.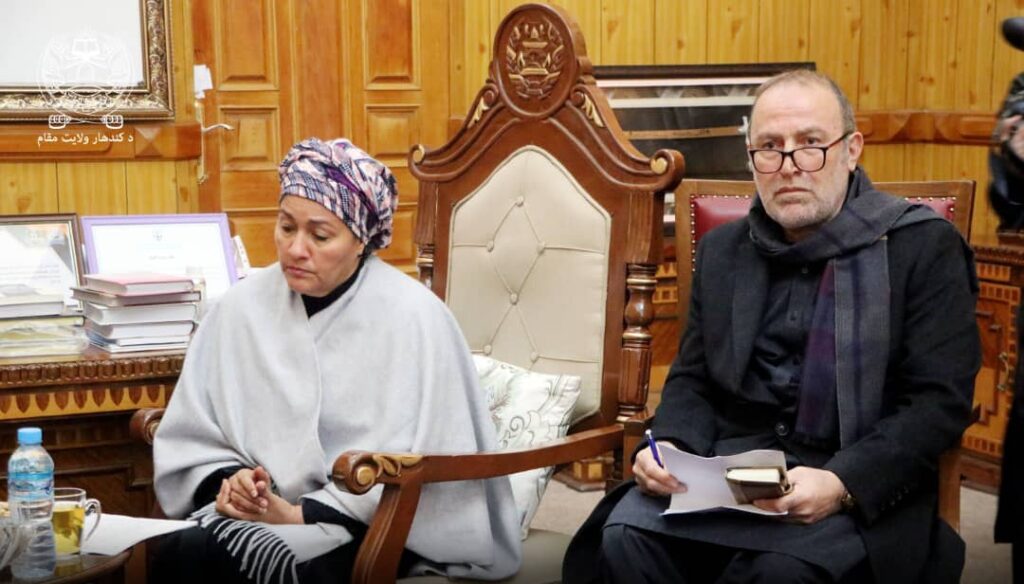 The delegation also met with senior Taliban officials to discuss the situation in the country, including the recent ban on women working for NGOs and the education ban on women and girls.
After a global outcry and the temporary suspension of operations by a number of NGOs in recent weeks, at least two have resumed activities after getting assurances from the Taliban that their female employees can return to work.
UNAMA stated that the "delegation also commenced engagement with the de facto authorities on this matter and the longer-term perspectives for Afghanistan."