The costs of obtaining electronic national identity cards have increased three times more than it was a year ago amidst a sharp rise in the number of applicants countrywide at a time when the people's economy is falling down.
Based on applicants, each person is charged 300 AFN ($3.4) for getting an ID card while it was 100 AFN ($1.1) under the previous government.
Copies of bank receipts seen by Amu also show that applicants have paid 300 AFN for each identity card.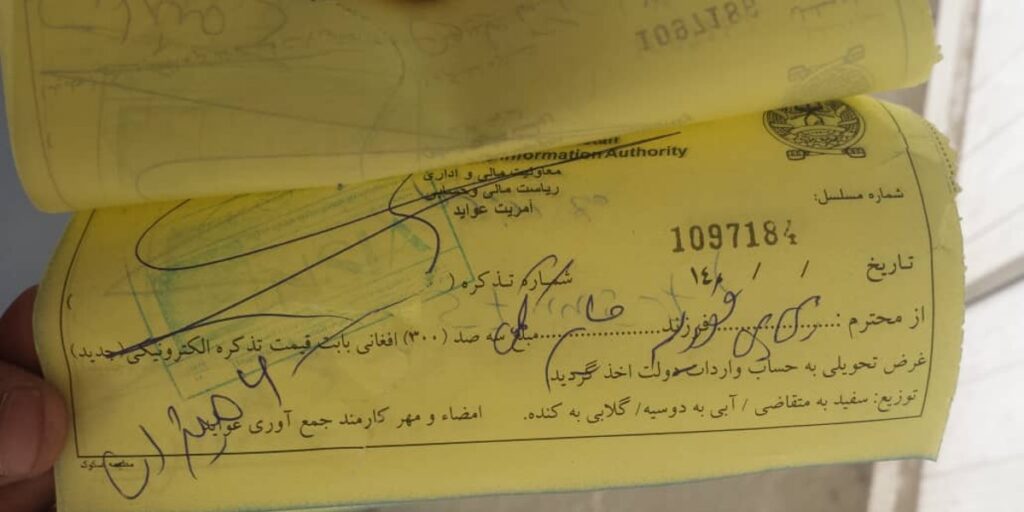 But those who have applied for the national document said they made their application three months back and have not received the ID card so far.
"I did biometrics three months ago, but I have not received an identity card so far," said Ahmad Sohail, a Balkh resident. "The cost of an identity card for each person was 100 AFN in the past, but it is 300 AFN now."
Nadia Ahmadi, a Kabul resident, and Esmatullah, a resident of Baghlan, shared the same issue, saying the costs have tripled.
"An original receipt mentioned 100 AFN for each person, but I paid 1,800 AFN for six family members," said Ahmadi.
'Extortion'
Some applicants of the identity card called the increase a type of "extortion" by the Taliban from the people who are faced with a challenging economic situation.
"The receipt mentions 100 AFN but they charged us 300 AFN per person. This is clear extortion by the Taliban from the people," said Sadid, a resident of Kapisa.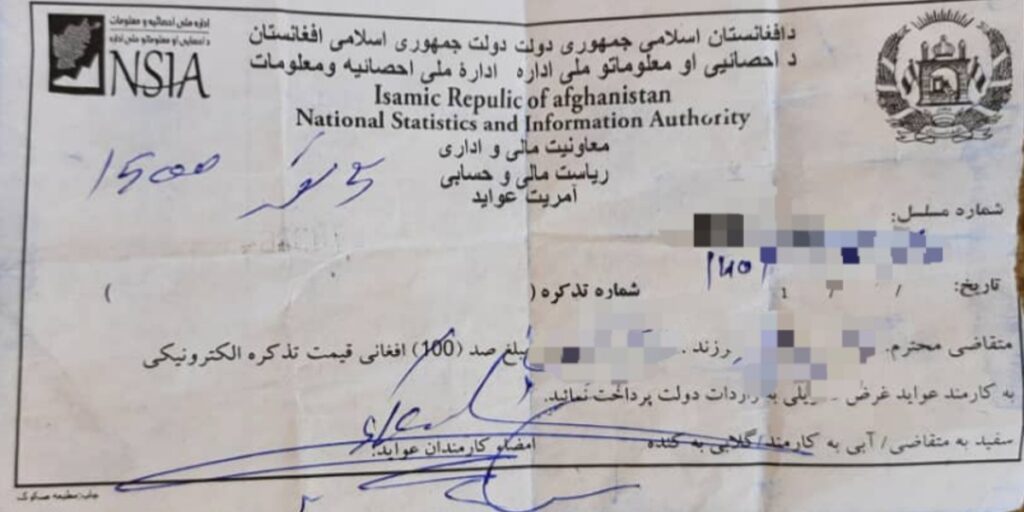 Parian, a resident of Panjshir, said he got identity cards for six members of his family a few months back and that he paid 300 AFN for each person, but did not receive a receipt from the bank.
Taliban's response
Taliban said the increase in the costs of electronic identity cards is part of measures to sustain their incomes amidst an end to foreign aid to the country.
According to a Taliban spokesman, 2.8 million people have received electronic ID cards over the past year and that six million AFN ($69,000) has been collected from the sector.
"The previous government had donors. We (Taliban) provide our financial support through such measures," said Mohammad Halim Rafi, Taliban spokesman for the national statistics and information authority, which is responsible for the distribution of electronic national identity cards.
Meanwhile, a source from the authority who wished not to be named over security reasons said the issuance of electronic identity cards has been suspended for lack of equipment over the past two weeks.
The distribution of electronic ID Cars was a controversial issue for the former president of Ashraf Ghani's government as a number of non-Pashtun citizens opposed the inclusion of "Afghan" in ID cards. Still, the Taliban resumed the process two months after taking over Kabul.