Farmers in Bamiyan are struggling with drought, a 10% tax by the Taliban on their harvests and the lack of market for their products, while prices for fertilizers have soared recently.
Potato is the key agricultural product in Bamiyan that affords nearly 50% needs of the country for the vegetable, according to figures in 2021.
Farmers said the fertilizers prices have been doubled this year. Two types of fertilizers are sold for 6,500 Afs ($70) and 4,300 Afs ($48) for a 50-kg bag while it was half of this price the previous year, a farmer said.
Mohammad Taqi, a farmer, said he farms on a rented land.
"Only a few farmers have the ability to irrigate their lands by purchased water while I didn't have that ability and my potato farms were damaged; therefore, I had no choice but to collect them before the harvest season," Taqi explained.
According to him, he paid at least 3,000 Afs ($33) for Taliban officials from agriculture director as an "ushr" –a 10% tax on harvests imposed by the ruling Taliban.
Shah Wali, another farmer, said his harvests were significantly reduced this year due to drought, high prices of fertilizers and the imposed tax compared to the previous year.
"This year's harvests were nearly half of that in the last year," he said.
Wali said he paid 1,500 Afs ($16) as taxes to the Taliban this year.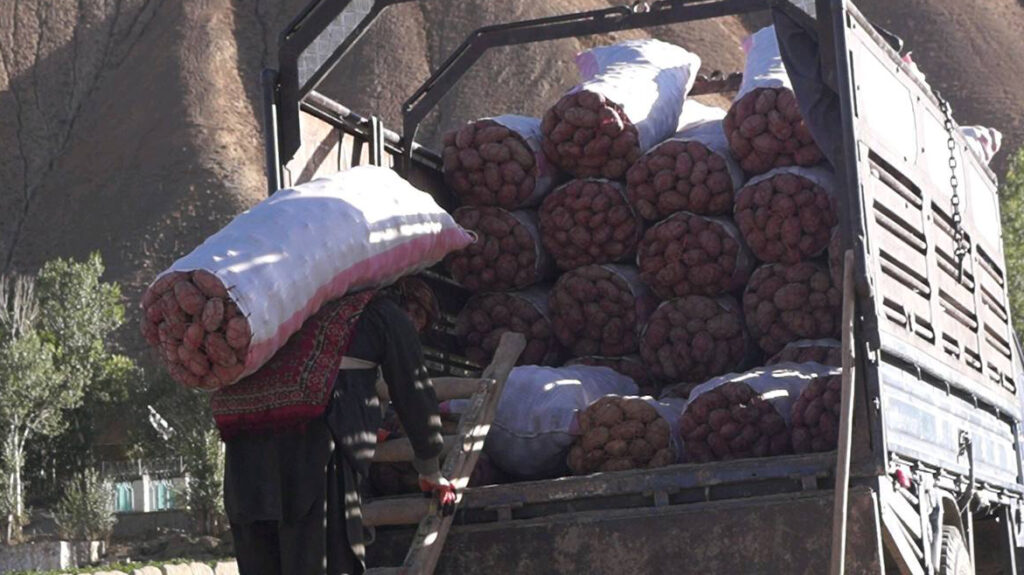 Experts said farmers need to farm vegetables that are resistant to the lack of water.
"Potato farming needs more investment and the harvests do not afford the expenses. Farmers can farm beans and other similar seeds that have higher economic value," said Habibullah Bahlolzada, lecturer at agriculture faculty of Bamiyan University.
"The government should pay attention to the situation of farmers because they have direct link with society," he added.
Figures from the last year show that Bamiyan farmers produced at least 350,000 tons of potato. Bamiyan has been hosting "potato festival" since 2017, which has been a good opportunity to showcase farmers' products at national and international levels.