Ghazni residents have come together and raised enough money to build a primary school for 1,000 children.
The residents have collected 2.8 million afghani between them and with the help of a local charity, the Ali Shah Mardan Charity Foundation, construction work is now underway.
At a ceremony in the Qala-e-Amir Mohammad Khan area of Ghazni city on Monday, residents and tribal elders together laid the foundation stone.
According to residents, the school is being built on one and a half acres of land and will be a double-story building. Sixteen classrooms are planned, which will accommodate a total of 1,000 children.
Zaman Zaki, the head of the Ali Shah Mardan Charity Foundation in Ghazni province, said: "We plan to build a two-story primary school named Imam Hadi on one and a half acres of land. This school will have 16 classes and 1,000 students will study there".
Siddiqa Nazari, a fifth-grade student, said that she was very much in favor of the project as more children will have access to school.
She said her school had no buildings and lessons were held in tents.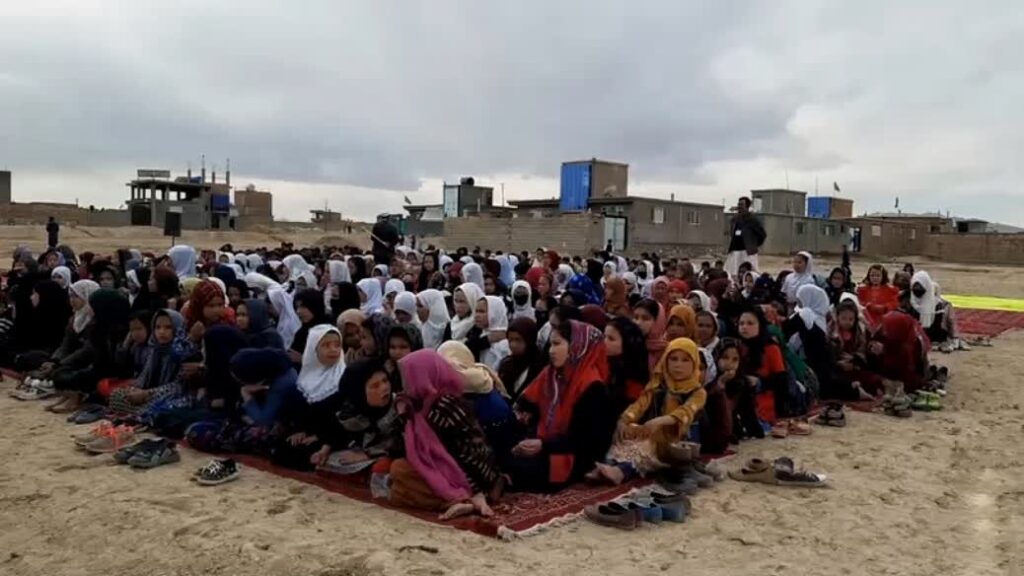 The new school year begins in less than a month, however, it is not yet clear as to whether Nazari and her classmates will be able to move up to Grade 6, as the Taliban's ban on education for teenage girls is still in place.
Sayeed Basir Agha, the teaching assistant of the Taliban education directorate for Ghazni, who also attended the ceremony on Monday, said: "All must try to educate students to love the homeland and to love Islam and to remove the distance between school and Madrasa."
He said that people need to be educated in modern sciences in order to resolve problems and meet the needs of a nation. "Education and expertise in different sectors is necessary and important," he said.
Ramazan Ali Khaleqi, a tribal elder of Ghazni, said: "For years, the students of the school in this region, around 1,000, were studying in tents or in rented houses, and the lack of a school building was one of their main problems."
According to him, neither the former Afghan government nor the Taliban caretaker government has paid attention to building an actual school.
He said that for this reason, the residents stepped in to donate money to get a school built.
People have built dozens of schools and healthcare centers with public donations across Ghazni province, over the year and last year, a building for a school and another for a health clinic was constructed with public funds. In addition, residents in some parts of the province, particularly remote areas, pay the salaries of school teachers and doctors so as to ensure these services are available in their areas.