Mike Pompeo's new book, Never Give An Inch, which hit bookshelves on Tuesday, takes a close look at Afghanistan during his time as secretary of state, and at the complex peace deal Washington signed with the Taliban in 2019.
Pompeo, who worked under ex-president Donald Trump, also had a lot to say about Afghanistan's former president Ashraf Ghani.
Corruption was rife throughout the country under Ghani, and according to Pompeo, both the ex-president and the country's chief executive Abdullah Abdullah "both led cartels that stole millions of dollars in aid money from the United States."
Without mincing his words, he called Ghani a "dim bulb in his political instincts" who, he said, did not have much credibility among Afghan leaders. But according to him the years that Ghani had spent in the West, had made him a master at "gaming American lawmakers" and nonprofit organizations. Ghani also "spent extravagantly on lobbyists," Pompeo said, adding that the former leader had come to see "the ability to procure American money and friends as the main factor for staying in power and continuing his grift."
Corruption was endemic and while calls for this scourge to be eradicated grew, Pompeo said that "eradicating corruption also came with its drawbacks, as the crooked system of patronage helped to prop up the entire Afghan political system".
He said it had been his opinion that "low level corruption secured a measure of stability" and kept the country from completely unraveling.
Pompeo stated that "we did not achieve our objectives before January 20, 2021. I would say it's unfinished business, except that President Biden finished it in the worst way imaginable".
In 2017, the CIA had a massive presence in the country, alongside about 15,000 American troops that were engaged in combat operations on the ground.
He said the "Russians, Iranians, and Chinese all welcomed America continuing to shed its blood and sink its treasure – some $2 trillion – into this backwater".
"There was a bonus for them: not only did Afghanistan absorb our geopolitical focus but we were doing the dirty work of taking down terror threats on their borders."
He said NATO allies did contribute as operators giving support to Afghan forces but the US had been doing most of the heavy lifting.
He acknowledged the US made serious mistakes in how they trained Afghan forces and said: "Instead of training them to fight with F-16s over their heads, we should have trained them to fight with knives in their mouths and small arms at their side.
"My Taliban counterparts mocked the idea that we could create an Afghan military replicated on an American model," he said, adding that this not only required an abundance of high-tech weaponry but it also required an officer corps that "couldn't be bribed".
Conceding their mistakes, Pompeo did however say that had the civilian government, under Ashraf Ghani, "had its act together", a more professional military might have been possible.
Reporting into the US president at the time, which was Donald Trump, Pompeo was tasked with setting in motion peace talks with the Taliban. He was instrumental in picking Zalmay Khalilzad as special envoy and while the appetite for diplomacy in Washington was mixed, Trump was committed to withdrawing from the country, he wrote in his book.
Pompeo stated that as the negotiating strategy took shape, he knew it was important to work with Resolute Support chief at the time General John Nicholson and then later with his replacement, General Scott Miller. However, Ghani assumed that any deal between the US and the Taliban would "leave him out of power – which was probably true, so he led a massive effort to undermine our negotiations," Pompeo said.
He noted that on one occasion, the two met in Kabul, at a time when Ghani was refusing "to negotiate in good faith."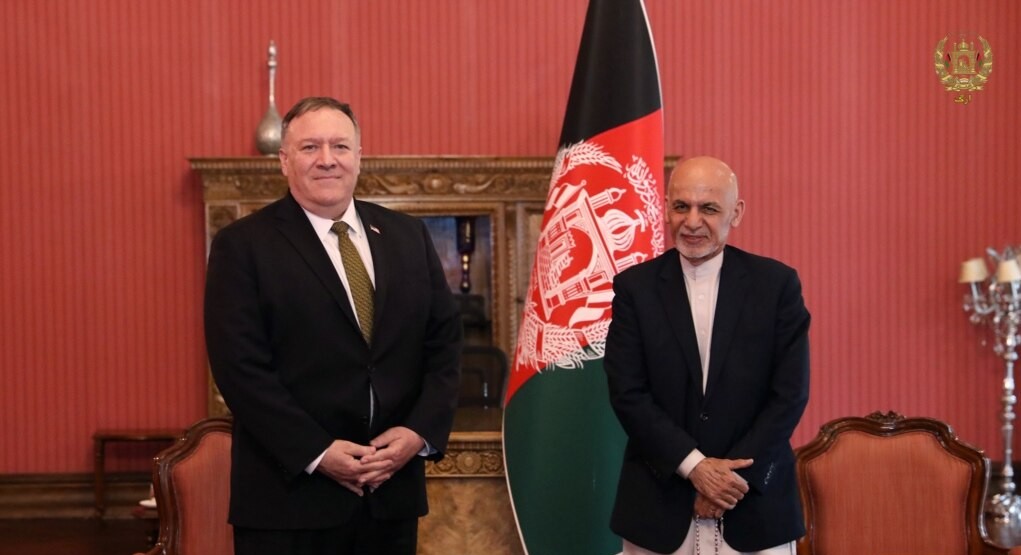 "I warned him that I would stop the transfer of $1 billion in American assistance if he refused to participate in the reconciliation process," said Pompeo, adding that Ghani was quick to inform at least one US Senator about the threat.
During the course of the negotiations, the US developed tactics that Pompeo said worked well in moving toward an agreement. The first was the use of their military capabilities to ensure the Taliban realized the US would not accept "rampant violence" during talks. "General Miller and I knew that if we could – in real time – ratchet pressure up and down in sync with our negotiations, we could accomplish something that the West never does: talk and fight at the same time," he said.
This essentially meant that if the Taliban moved too close to an important location, Pompeo and Khalilzad would coordinate with Miller and then let the chief Taliban negotiator Mullah Baradar "he had two hours to fix it. If he didn't, we rained down fire on his people in the field until he got the message."
"It took only a couple such conversations and demonstrations to make clear that we were operating in tightly coordinated fashion to coerce the outcomes we sought from the Taliban," Pompeo said.
The other element to deterring the Taliban was Trump's stance that if harm came to any Americans during the peace talks process, the US president at the time would "nuke you (Taliban) back to the stone age."
"The Taliban came to know that our negotiations with them were directly connected to how they operated and how many of them we would kill," Pompeo said.
But the thorn in Washington's side was Ghani, who Pompeo said "was always a problem" during the course of negotiations.
He also said he has met dozens of world leaders, including Kim, Xi and Putin – but Ghani was his least favorite. "Ghani was a total fraud who had wasted American lives and was focused solely on his own desire to stay in power.
"Never once did I sense that he was prepared to take a risk for his country that might imperil his power. This disgusted me," he said.
But despite objections from Ghani and "most of the establishment in Washington, DC," he finally witnessed the signing of the Doha agreement in Qatar on February 29, 2020.
The accord is titled: "Agreement for Bringing Peace to Afghanistan between the Islamic Emirate of Afghanistan which is not recognized by the United States as a state and is known as the Taliban and the United States of America". This is the full title of the agreement, Pompeo stated noting that it is quite a "mouthful".
He also said that at the same time US secretary of defense Mark Esper executed a similar document, "often ignored, but just as important," between the US and Ghani's government. The agreements were however less a basis for peace than a formal framework for trying to achieve it, he said.
Pompeo pointed out that he had supported the deal and still thinks it was the right path forward – despite critics slamming him for having signed a "surrender agreement".
Reaching an agreement with the Taliban had however been a lot easier than getting the Afghan government, the Taliban and the various groups inside Afghanistan to move towards peace.
Ghani, he said, won the September 2019 elections only because he had "bribed more voters and vote counters than the other candidates had," adding that while Abdullah Abdullah and Ghani were fighting over who would be the next president, he flew to Afghanistan in March 2020 to deliver a message from Trump. They needed to come to an agreement "or I would advise President Trump that we should exit the country immediately, beginning with the elimination of the roughly $5-6 billion per year in foreign assistance that we were providing at the time," he said.
This money, he said, was "walking around money" for local leaders, a euphemism for bribery. Eventually $1 billion in assistance was shaved off "to show we weren't bluffing".
In May, Abdullah gave in and handed control to Ghani.
At the end of Trump's term in office, and on the day Pompeo stepped away as secretary of state, the US still had over 2,000 troops in Afghanistan. He says while they did not succeed in withdrawing all troops at that point, they still "never allowed chaos to descend on Afghanistan."
He noted that the Trump administration showed that good planning "counts for everything," but added this was not the case with "the horrifying withdrawal from Afghanistan that occurred under President Biden."
He blamed Biden for having set a specific date – September 11. "It was idiotic to set a date in principle and idiotic to set a date with such potent symbolism," he said adding that once the date had been set, Biden essentially "telegraphed" the Taliban that they could begin a violent campaign of coercing Afghan commanders to lay down their weapons because the Americans were leaving.
"It was a recipe for the chaos that engulfed the country, to the misfortune of Afghan citizens and to the shame of the United States."