Shop owners at the second-hand goods market in Badakhshan province say they have been hit extremely hard by the economic crisis in the country and are worried about the financial outlook.
The goods on sale, at more than 30 shops that sell pre-owned household items, were purchased by shop owners in Faizabad city from Afghans migrating.
But because of the severe economic crisis, sales have dropped as people are not buying the goods, shopkeepers said.
Mujibullah, a 42-year-old man who is the only breadwinner of his 12-member family, said he has been selling second-hand items for 30 years.
Mujibullah said that people were hit really hard financially by decades of war and the situation was similar to the time of "the former Mujahidin war (the 1990s). People used to sell their household items for very little to be able to migrate to Pakistan."
"Thank God, there is no war, but people's economy is poor. There are no jobs for people. Believe me, somebody wanted to sell his child to buy food, I stopped him," he added.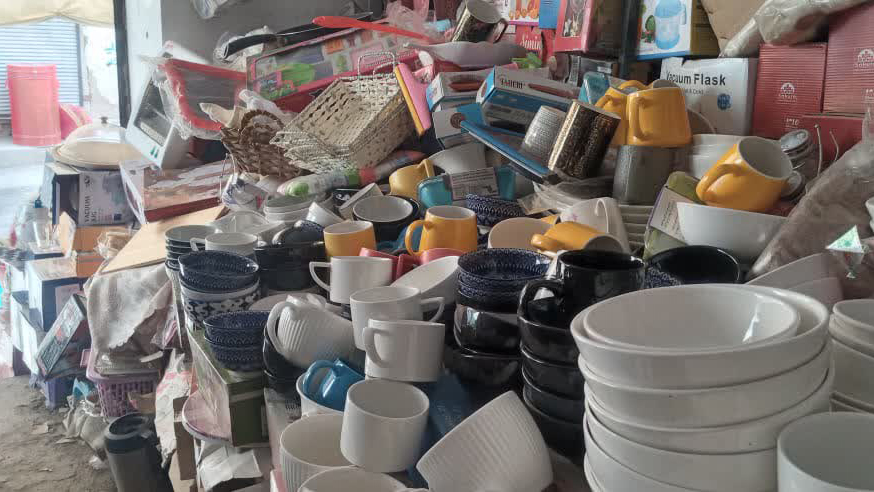 After the Taliban swept into power in August 2021, Afghanistan's economy deteriorated drastically and tens of thousands of people have been forced to sell up and migrate.
Household items – including carpets, refrigerators, televisions, and other items – fill these second hand stores, including similar shops in Kabul. Shopkeepers however are increasingly concerned about the lack of business. They say people are just not buying their goods.
Nawid, a shopkeeper, said the market for second-hand items was once flourishing in Kabul but now people can no longer afford to buy the goods.
"When the borders were opened…People began selling their household items. We thought all Afghan citizens were leaving Afghanistan. People were selling their items every day. Sometimes, we used to stop buying goods, because we had no place [to display items] and we ran out of money," Nawid added.
Meanwhile, many people who initially sold their household items before leaving the country, have since returned and they cannot afford to buy back their belongings.
Hikmatullah, a 34-year-old man, sold all his possessions after the Taliban took control of Afghanistan. He and his wife then traveled to Iran. Iranian police subsequently arrested them and deported them. Now they are back, but they can not afford to buy the items they need.
These second-hand dealers have meanwhile called on the Taliban to create jobs for the people so that they are not forced to leave the country in search of work.