A number of female teachers in Kabul and Logar provinces claim they have been removed from their posts by the Taliban "for no reason" and that others were demoted.
Teachers who spoke to Amu said more than 15 teachers in Logar and many in Kabul were dismissed, from certain schools, by the Taliban.
Many of the teachers had worked in their posts for over 20 years, and almost all of them are the main breadwinners of their families.
Shafiqa, a school teacher in Logar, a province close to Kabul, said she has served for over a decade but has been dismissed.
"The Taliban told me you cannot continue your job because you were a teacher during the republic (government)," Shafiqa told Amu.
"There were 15 teachers, including me, who were removed by the Taliban without any reason."
Shafiqa said none of the teachers had been given details on their dismissal despite them having raised objections with the Ministry of Education.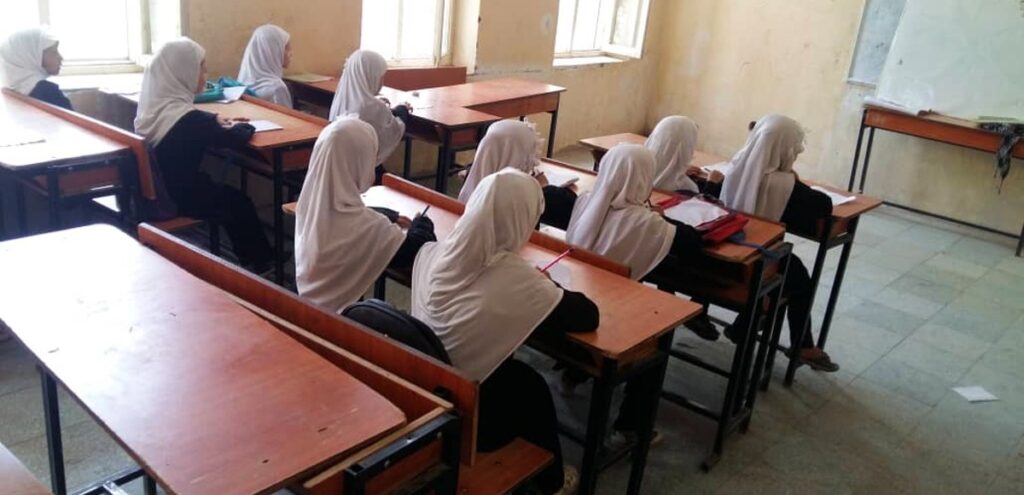 "We shared our complaint with the Ministry of Education but no attention was paid to it," she said.
"When the Taliban asked women to return to their jobs in security agencies, why should women in education not have the right to continue their duties," she added.
Another teacher, Suhaila Nazari, said she worked as a teacher in a school in the Mohammad Agha district in Logar, but she too has lost her job.
"The Taliban told me that I can no longer continue my job because I was paid during the republic [era]," she said.
"My salary was 7,000 AFN (less than $100) a month at that time and it did not cover my costs. And I am deprived of it now."
An Amu reporter spoke with seven other female teachers who have been removed from their posts over the past two months. All shared similar reasons for their dismissal from their posts.
Reshuffle in schools
In addition, teachers reported that the Taliban has reshuffled the management of some schools in Logar and Kabul, replacing principals and managers with their own candidates "who lack the required criteria, especially education level, for the posts."
A principal at a school in Logar who wished to remain anonymous for safety reasons said he has served for 17 years in the education sector but he has been demoted to a school teacher.
"Taliban frankly told me that they have allocated high positions for their own picks and if you are not happy in this position, you can get another job," he said.
According to him, at least 17 school principals in Logar have been removed and replaced by the Taliban's own candidates and "none of those newly appointed by the Taliban have education documents."
Muzhgan, a schoolteacher in Kabul
Muzhgan, a schoolteacher from Kabul, said worked in the sector for over 10 years, but she was fired by the Taliban.
"They fired me for no reason. I am facing many problems. We often have nothing to eat at home. My children are in bad condition and one of my children has faced malnutrition," Muzhgan said.
Figures obtained by Amu from over a dozen former teachers and principals show that at least 100 female and 50 male teachers have been removed from their posts or have been demoted in Kabul and Logar provinces over the past three months.
The Taliban's ministry of education did not respond to Amu's queries about the matter.
Wearing a long black dress, a black hijab, and black gloves, the use of only male teachers for boys' classes in secondary schools and the barring of female teachers for boys in secondary schools are among the restrictions imposed by the Taliban on schools in Afghanistan as teachers explained.