The Dehsabz district east of Kabul has changed into an important place for loading and reloading trucks carrying Afghan coal en route to Pakistan since the start of this month. Hundreds of trucks coming from northern Afghanistan are unloaded in Deh Sabz on a daily basis to then be sent to Pakistan.
The speed is as much as new trucks loaded with coal are arriving before others that have stopped in Deh Sabz are unloaded, showcasing a never seen before scene in Afghanistan – under Taliban rule.
The warm summer makes it tougher for hundreds of daily wagers to load and then unload trucks for being sent to the neighboring country.
Pakistani media reports say Pakistan imports the coal to supply it for the coal-fired power plants in different cities.
Dawn News quoted an official as saying that the process is done under "certain arrangements" and by relevant departments, especially the Pakistan Railways to make sure it is conducted rapidly.
According to Dawn, reports suggest that the Afghan coal price more than doubled from $90 per tonne to around $200 after Pakistan decided to buy the commodity from its neighbor.
Daily wagers get 50 cents for unloading 1 ton of coal
"The trucks are coming from Mazar-e-Sharif city (in Balkh) and are unloaded here," said Mohammad Jawad, a daily wager. "We get 30 Afs ($0.30) to 50 Afs ($0.5) for unloading each ton of coal. This is too less. Sometimes, we unload some trucks freely."
The Kabul-Bagram road in the north of Kabul is filled with lines of trucks that are waiting to enter the capital city.
"Once, this highway was full of trucks importing flour; now, it is decorated with long lines of trucks carrying coal," a driver, Toryalai, said.
"We get short of trucks sometimes as the exports are too fast," a driver, Farid Ahmad, said.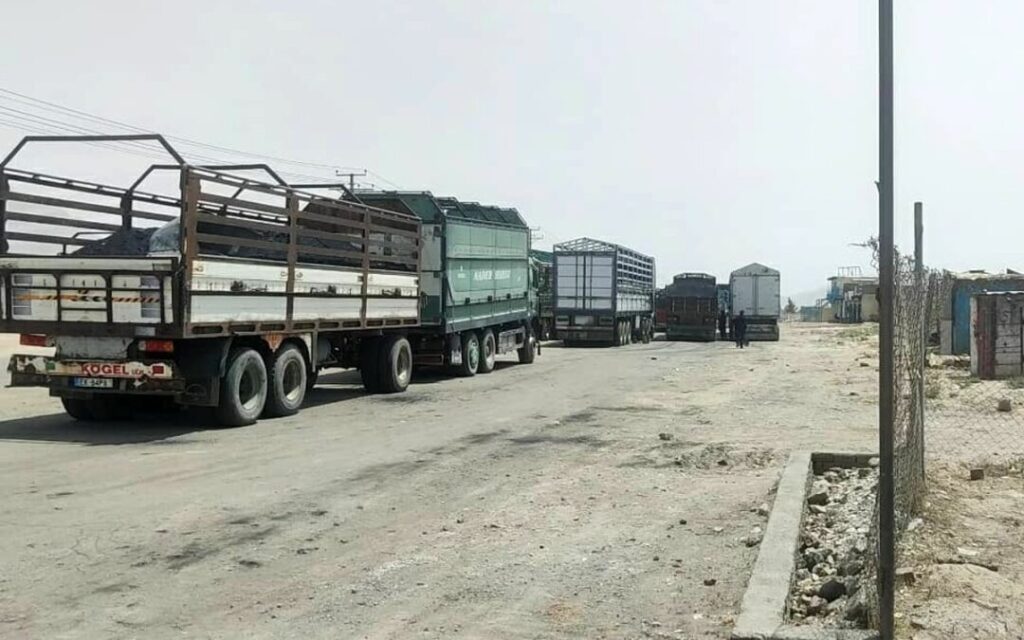 Three Pakistani companies buy Afghan coal
Two companies facilitating the export of coal to Pakistan said that the Cherat Cement Company, Fauji Cement Company and Lucky Cement Limited are leading the supply of Afghan coal to the neighboring country.
The coal is extracted from coal mines in Sang Dara, Dara-e-Soof and Balkhab district, all in northern Afghanistan.
An Afghan analyst said the companies are influenced by the Pakistani army and that Pakistan's intelligence agency has expedited the coal imports by putting pressure on the Taliban.
"The three companies, Cherat, Lucky and Fauji, are the three biggest cement firms in Pakistan, which are supported by the Pakistani army," said Sayed Massoud, a former university lecturer. "In my point of view, the expedition in the exports means they might do this by putting pressure (on the Taliban)."
10,000 tons of coal daily
The Taliban government's finance ministry announced this week that at least 10,000 tons of coal are sent to Pakistan on a daily basis. But figures by Afghan companies in Deh Sabz district in Kabul show that at least 12,500 tons are sent to Pakistan daily by 25 coal supplier Afghan firms.
The former head of the Afghan banks union, Siyar Quraishi, said selling the coal in Pakistani rupees will damage the value of the Afghani currency.
"The trade must be done in dollars; otherwise it will damage the country's economy and currency," Qureshi said.
But a Taliban official said the deals are done in local currency.
"We supply the coal to private companies. We don't interfere with whether they send it to which country or at which price they are selling it, or even which currency they're selling it. We're selling it in Afghani here inside Afghanistan," said Esmatullah Burhan, Taliban spokesman for the finance ministry.
Coal exports stared early but expedited recently
An official from an Afghan coal supplier company said the process has been underway over the last two months, but it has been expedited in the last few days – after the Pakistani government assigned specific teams to accelerate the import of coal for Pakistan's coal power plants.
"Over the last two months, our company has supplied tens of thousands of tons of coal to Pakistan," said Mirwais Milli, head of an Afghan coal supplier company. "Pakistani companies, including Cherat, Lucky, Fauji and others are coming here to buy the coal."
"Most of our customers are Cherat, Fauji and other companies who buy the coal at a very low price and then take it to Pakistan," said Abdullah, a representative of an Afghan company that supplies coal to Pakistani firms.
The coal exports increased after Indonesia's ban on its coal supplies earlier Indonesia announced a month-long ban on the export of thermal coal.
Balkhab, Taliban and coalmines
The coal exports could be good news for Afghans, especially under the current circumstances that the country is facing. However, the process came under question for two reasons: the low coal prices and its dealings with Pakistani rupees.
Pakistani media reports say that the import of coal from Afghanistan, initially required only for Sahiwal and Hub power plants would save more than $2.2 billion annually in the import bill.
Meanwhile, some sources link the clashes in Balkhab district in northern Sar-e-Pul province between the Taliban and its splintered Hazara commander, Mawlawi Mahdi Mujahid, a clash for mineral resources, especially coal mines.
Mahdi joined the Taliban in 2019 after rifts with the previous government's local leaders. Later, he was appointed as the Taliban's designated district governor for Balkhab in 2020, almost a year ahead of the regime change.
Mahdi separated his ways with the Taliban in June this year and failed to hold areas under his control in Balkhab. The clashes in Balkhab in the last two weeks have displaced over 27,000 people, according to the UN's humanitarian office, OCHA.
Two Afghan analysts said the fighting in Balkhab between the Taliban and Mahdi is a clash for coal mines. Balkhab has five coal mines.
"The extraction of coal is an issue for many reasons. First, there isn't a law for it. It is extracted by commander Mahdi and his supporters. Nothing goes to the people. They (Mahdi) demanded more money. Taliban could not afford it. The fracture emerged there," said Torek Farhadi, an international affairs analyst.
"Clashes have always been on natural resources in Afghanistan's history," said Ahmad Khan Andar, an analyst.
Impacts on prices in local markets
The increase in coal exports has increased doubled the prices in local markets, which are mostly used by brick kilns in the Deh Sabz district in the east of Kabul. The prices for one ton of coal have increased to 16,500 Afs (nearly $190) from 8,000 Afs (nearly $90) in the past.
A representative of the brick kilns association in Deh Sabz said that more than 600 brick kilns have stopped operation after the increase in coal prices.
"Brick kilns have been closed not only in Deh Sabz but in other areas too," said Nazir Ahmad Baraki, a representative of brick kilns operators in Deh Sabz.
Another representative of brick kilns, Abdullah, said that at least 150 people have lost their jobs.
"All the coal is sent to Pakistan, but its prices here have increased more than two times," Abdullah said.
"Bricks market has decreased. Coal prices have increased. We have lost our jobs," said Najibullah, a former employee of a brick kiln.
Afghanistan has 80 coal resources and that extraction is underway in 17 of them, according to information by the ministry of mines and petroleum. The coal is extracted without a contract. The Taliban government is receiving only tariffs while the main benefit goes to certain investors, analysts aware of the matter said.