Pakistan's former prime minister and main opposition leader Imran Khan addressed supporters outside his Lahore home on Wednesday afternoon just hours after violent clashes broke out when police tried to arrest him.
Videos on social media showed police firing tear gas canisters and in one video, Khan can be seen wearing a gas mask.
Police called off the arrest operation early Wednesday afternoon but were quoted by local media as saying it was just a 'temporary' move.
Police had besieged Khan's home for a second day on Wednesday in a bid to arrest the ousted prime minister for failing to appear in court last week on graft charges.
However, Khan's supporters who had gathered outside his house threw bricks and rocks at police and swung batons snatched from officers.
Violence was also reported between Khan's supporters and police in other major cities, including Karachi, Islamabad, the garrison city of Rawalpindi, Peshawar, Quetta and elsewhere in Pakistan, Associated Press reported.
After clashes subsided and police pulled back on Wednesday, Khan emerged from his house to meet with supporters. He said he was ready to travel to Islamabad on March 18 under the arrest warrant, but that police did not accept the offer, AP reported.
He then later posed for cameras behind a pile of spent tear gas shells. In a tweet he asked: "What crime did I commit that my house has been attacked like this?"
Punjab Interim Information Minister Amir Mir meanwhile told BBC that the court-ordered operation to detain Khan was suspended on Wednesday to allow a cricket tournament to take place nearby.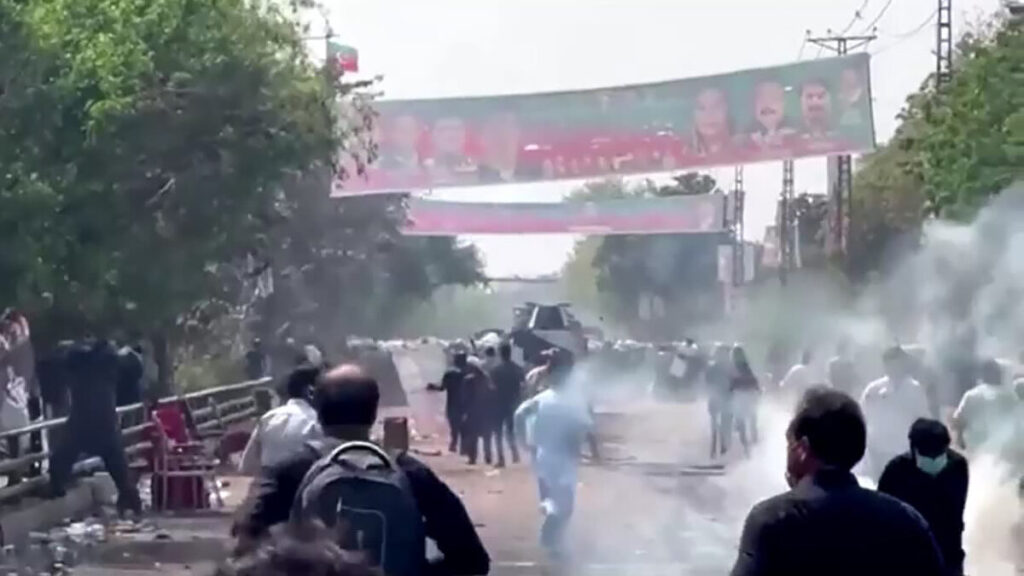 Mir said the operation would likely continue after the final of the Pakistan Super League (PSL) on 19 March.
"We can't afford to risk the security and safety of the PSL," a senior police official told Reuters.
The 70-year-old, who was ousted as prime minister in April last year, is facing allegations he sold state gifts while in office. Khan has said the case is politically motivated.
Khan meanwhile told BBC earlier that the authorities were trying to arrest him to stop his party from taking part in forthcoming elections. But he said: "Whether I am in jail or not they will not be able to stop my party winning."
However, government minister Marriyum Aurangzeb said the move had nothing to do with elections and police were only complying with court orders. She claimed that Khan was using his supporters including women and children as human shields to evade arrest and stoke unrest.