Just hours after the Taliban reopened the Torkham border crossing in eastern Afghanistan, Pakistani officials stepped in and closed it to all traffic, a Taliban official in Nangarhar said.
The border crossing was closed to traffic by the Taliban on Sunday evening over "lack of addressing some matters by Pakistan."
At least three clashes have subsequently taken place between Pakistani forces and Taliban near the Torkham border crossing – leading to increased tensions between the two countries. Two Taliban members were killed in one of these clashes on Sunday, Feb. 19.
Tensions have also been exacerbated by Pakistan's accusations that the Taliban are harboring Tehreek-e-Taliban Pakistan (TTP) militants, which have ramped up attacks in Pakistan.
The closure of the border by Pakistan comes a day after a high-ranking delegation led by Pakistan's Defence Minister Khawaja Muhammad Asif visited Kabul and held talks with a number of Taliban officials.
Pakistan's intelligence chief Gen. Nadeem Ahmed Anjum was part of the delegation.
According to Pakistan's foreign ministry, the delegation met with the senior leadership of the Taliban, including Abdul Ghani Beradar, Mohammad Yaqoob Mujahid, Sirajuddin Haqqani and Amir Khan Muttaqi.
Matters relating to the growing threat of terrorism in the region, particularly by TTP and Daesh came under discussion, the ministry said.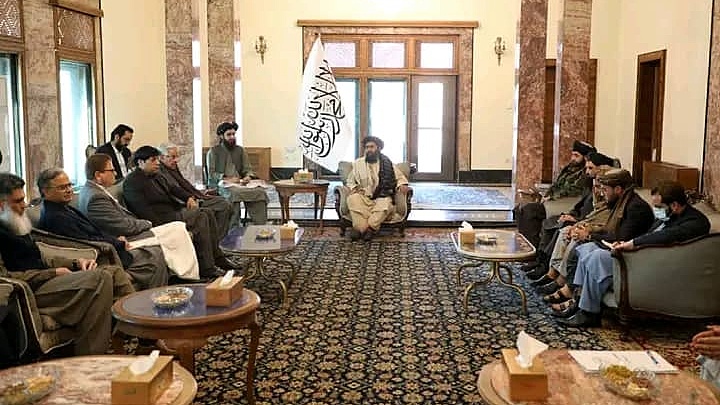 Thousands of trucks stuck at Torkham crossing
Thousands of trucks were stuck at the Torkham crossing between Afghanistan and Pakistan for a fourth day on Wednesday.
Zia Ul Haq Sarhadi, director of the Pakistan-Afghanistan Joint Chamber of Commerce and Industry meanwhile told Reuters: "The closure of the border crossing between Pakistan and Afghanistan has been causing losses to traders of the two countries. There are long queues of heavy trucks stranded on both sides of the border."
He said up to 6,000 trucks loaded with goods had been stuck on both sides since Sunday.
The reason for the closure was not entirely clear, though officials on both sides have said they were in discussions to resolve the issue.