A letter by the Taliban's defense ministry has stated that about 7,000 members of Daesh are expected to enter Afghanistan from Pakistan and will settle in the northern parts of the country.
The alarming document, dated Jan. 12, 2023, was seen by Amu and confirmed by sources. It was sent from Taliban's 203 Mansoori corps to the second regiment of its border forces and shared information about a possible influx of Daesh members, saying that three groups of a few thousand members each will enter Afghanistan through Kunar province in the east.
A source in the Taliban's defense ministry confirmed the content of the letter to Amu. But Taliban spokesman Zabihullah Mujahid did not respond to Amu's requests for comment about the letter.
According to the letter, three groups, totaling 7,000 individuals, are currently undergoing "extremism training" in the Kurram District – in Khyber Pakhtunkhwa in Pakistan. According to the letter, these individuals are trained by a man named Muslim Kotwal.
The letter says that the individuals are being trained in "Tera, Rishgal, Kokokhil, Ganda Gharbi, Dara-e-MirShal and Bejar (all areas in the Kurram Agency). Individuals in two of the groups use black and red flags and have a red band on their heads, the letter says. The third group meanwhile uses a black flag.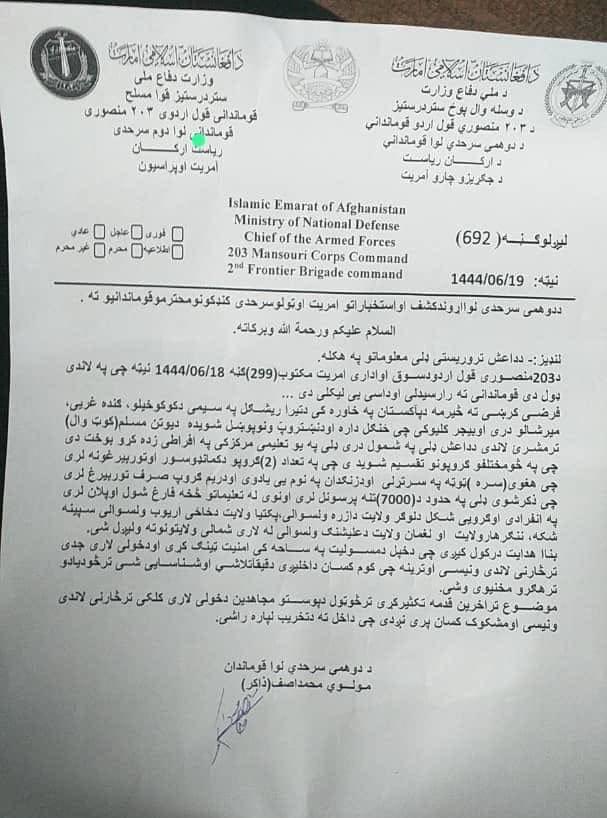 The letter states that members of the three groups are planning to enter Afghanistan through Logar province, Zazai Aryub district in Paktika, Shega district in Nangarhar and Alishang district in Laghman province to move to northern provinces of Afghanistan – that border with Central Asian countries.
In the letter, the Taliban's defense ministry asks all border units to assess individuals who enter Afghanistan through borders – with Pakistan – and assess all villages that lie along the Durand Line.
A senior Taliban official in Kunar said on condition of anonymity that a significant number of the 7,000 individuals might enter Afghanistan through Shegal, Shultan, Sawkai and Noorgul districts in Kunar and move to northern provinces where they might cooperate with regional terrorist organizations.
This comes just days after Pakistan's envoy to the United Nations said that the deteriorating economic situation in Afghanistan could lead to Taliban fighters crossing over to more violent and hardline militant groups including Daesh.
In an interview with Newsweek, Pakistan's permanent representative to the UN Munir Akram said his government was "concerned" about the increase in militancy along its border with Afghanistan.
Former Afghan intelligence chief Rahmatullah Nabil said that Daesh is busy recruiting in northern and eastern parts of Afghanistan.
"Pakistan and Taliban are behind the leaking of the document," Nabil told Amu on Wednesday. "Pakistan wants to tell the world they should support the Taliban or Daesh."
"Pakistan wants to say that if the world does not support the Taliban, Afghanistan will change into a safe haven for terrorists and Daesh will further grow in Afghanistan," Nabil added.
He said that the Taliban, by sending such letters, want to show it has goodwill and that it is warning Central Asia that Daesh is moving towards them and wants to show that it is thinking about the safety of its neighbors.
Zia Aria Nazhand, a former MP from Samangan, said the Taliban letter is a political move and is aimed at attracting foreign aid.
"This letter of the Talibs and these words by them are political for many goals. Taliban wants to exaggerate Daesh [numbers] in Afghanistan to get more support from regional and world countries through this. By mentioning the intention of the individuals to move to the north, it wants to push Central Asian countries and Russia to increase their support to them," he said.
Daesh has claimed responsibility for at least seven deadly attacks in Afghanistan's Kabul, Balkh, Badakhshan and Baghlan provinces over the past two months, which left dozens of people dead.