The father of a 19-year-old woman, who was publicly flogged by the Taliban, said his daughter was accused of a crime she never committed.
The father said his daughter was arrested by the Taliban four months ago while on her way to an English language training center in Qalat in Zabul province.
He told Amu TV his daughter was convicted of having an affair with a taxi driver and sentenced to 39 lashes in public and three years in prison. The young woman's father said the accusations were false and that his daughter was in fact engaged to be married. He also said that at the time of her arrest, he was not informed and for 24 hours his daughter was "missing".
When the father finally tracked his daughter down, she was at the Taliban police headquarters in Zabul and when he asked the Taliban to show him evidence of the alleged affair, he was thrown out of the Taliban police commander's office.
"When the court was ruling against my daughter, I was there. The judge was explaining my daughter's case. There was no evidence. I objected, but I was not given the chance to speak. (I was told) that you don't have the right to speak, you can only listen to the court's order," the man said.
He said the Taliban judge said in court that his daughter had an affair with a taxi driver because photos of her had been seen on the taxi driver's phone. According to the father, both his daughter and the taxi driver were lashed 39 times.
"I wanted to appeal, but they (Taliban) rejected it. My daughter was lashed 39 times and was sent to prison," he said.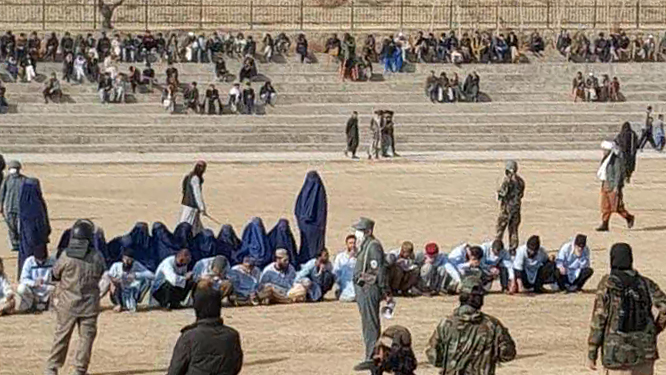 According to him, during the Taliban's court hearing, the accused was not given the chance to defend herself nor was she allowed an attorney.
The Taliban court
Lawyers and experts in legal affairs said that Taliban judges are unprofessional and their hearings are not fair.
"The hearings are unjust. The accused has no access to a fair trial," said Subhanullah Misbah, a legal expert.
Some judges from the previous government said the Taliban court cases are similar to that of "kangaroo courts," adding that based on articles 7 and 8 of the former government's penal code, the accused must have a defense attorney to represent them in court.
"The ruling of a court without the presence of a defense attorney is meaningless," said Alim Farooq, a former judge. "Taliban's courts are kangaroo courts."
Taliban sentences
A court employee in Jawzjan said that Taliban courts send murderers to court three times and if there is no evidence, and the accused confesses, he is sent for Qisas, capital punishment.
The employee said that a person convicted of adultery is sentenced to stoning, and a person convicted of drinking alcohol will be lashed up to 80 times.
A source from a Taliban prison in Balkh said that once a person has been arrested, the case is sent to a crime investigation department; from there it goes to court where a judge and a crime investigation officer will decide on the verdict and sentence.
Taliban announced in November that its leader Mullah Haibatullah Akhundzada had called for the implementation of Hudud and Qisas – which includes executions and amputations.
Following the announcement, the group has so far lashed in public at least 240 people, including 53 women, for different offenses and it has implemented Qisas on at least one person – in Farah.