Doctors say that malnutrition among children will increase by more than 40 percent compared to the last year as the cases are on the rise amidst a sharp increase in poverty and economic woes in the country.
Based on figures by the Ministry of Public Health, over 999,400 children under the age of 5 were faced with mild and severe forms of malnutrition in 2021, which was 31 percent higher than the previous year.
Another figure by the ministry shows that at least 59,000 children had acute malnutrition while over 137,000 others with mild malnutrition in the first quarter of this year.
The ministry last week said that at least 200,000 people, including children and women, were admitted to hospitals for malnutrition from July 23 to August 23 all over the country.
Back in April, the Ministry of Public Health said that at least 3.4 million children are faced with different forms of malnutrition in Afghanistan. But a recent UN report warns that 1.1 million children under the age of 5 will likely face the most severe form of malnutrition in Afghanistan.
According to the ministry, nearly 500 mobile teams have been assigned in various parts of the country to help children and mothers facing malnutrition.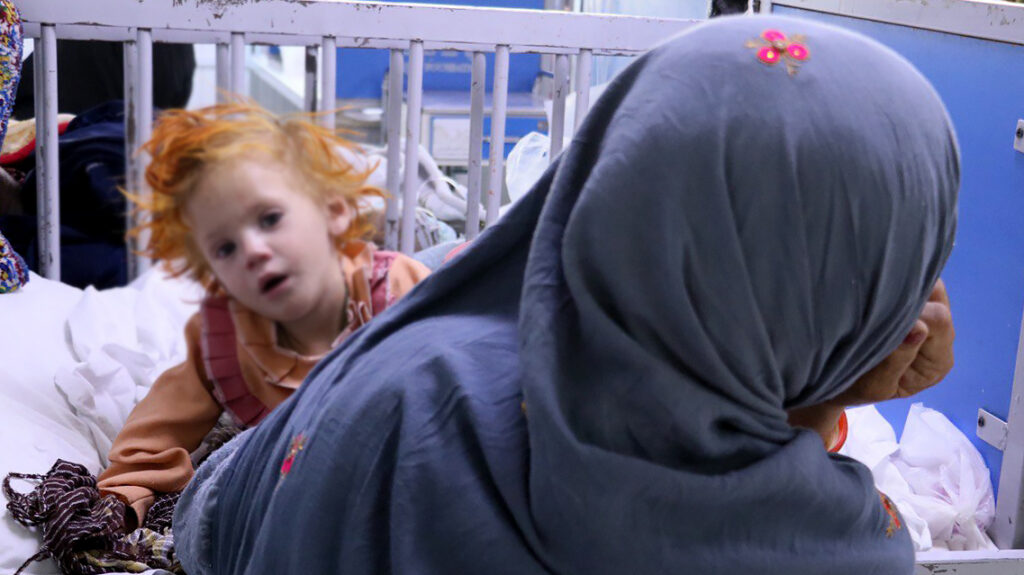 Mohammad Iqbal Sadiq, chief of medicine for Indira Gandhi Children's Hospital in Kabul, said poverty is the main cause of the rapid rise in malnutrition cases among children.
"Mothers should be fed enough during pregnancy to give birth to healthy children," Sadiq said.
Lack of attention to patients
Parents who took their children to the Indira Gandhi Children's Hospital in Kabul said there is a lack of attention to their patients due to the high number of children who are taken to the public health facility.
They said that in most cases, two children are treated on the same bed that is for one person.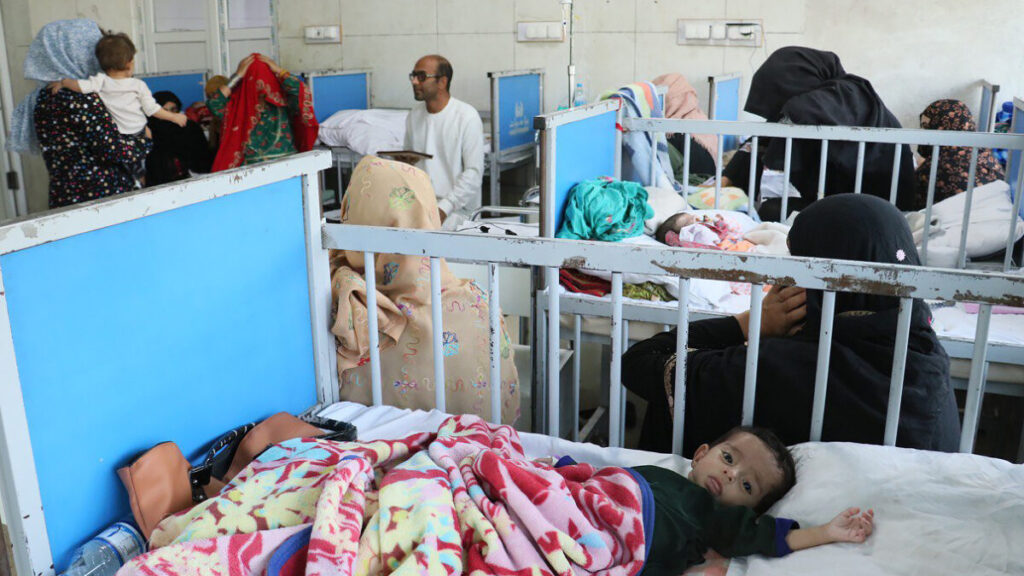 Speaking to Amu, some parents who came from various provinces, some of them from a distance of almost 80 kilometers away from the hospital, spoke about the problems they face, including economic challenges.
Mohammad Shafiq, a Nangarhar resident and the only breadwinner of his family, said he earns at least 300 Afs and he has not been able to provide good food to his wife during her pregnancy.
"My son has been admitted here for the past few days because of malnutrition, but patients are not taken care of well as the number of children is too high and the personnel is not enough. I am afraid of losing my son," said Shafiq.
Shazia, a Logar resident, said her newborn baby is faced with malnutrition and is under treatment at the children's hospital in Kabul.
"My husband works day and night but he cannot earn enough because drought has affected the farmlands and we don't have enough financial resources for living a normal life," said Shazia.